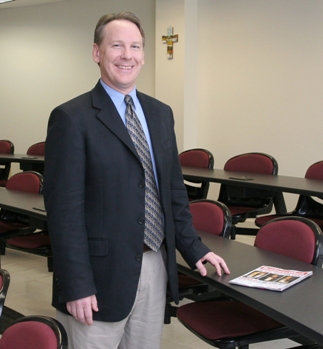 Texas Health and Science University is proud to announce today that David G. Vequist IV, Ph.D., adjunct faculty member, has been appointed Vice President of Academic Affairs, Assessment, and Research.  "David Vequist served in this position from 2007-2009, and I am pleased that he has agreed again to offer his vast knowledge and expertise to our University," said President Lin.  Dr. Vequist stated, "I am proud that we are now a university and that new programs in business have been added.  I look forward to coming back and making my contribution to Texas Health and Science University."
Dr. Vequist is Founder and Director of the Center for Medical Tourism Research, affiliated with University of the Incarnate Word in San Antonio, Texas.  He worked as project manager for Ernst & Young in the areas of competency modeling, organizational development, and customer relations.  He also served as Director of Human Resources, Planning and Systems for Methodist Healthcare System.  Dr. Vequist received his Ph.D. and M.A. in Industrial and Organizational Psychology from the University of Tulsa in Oklahoma.  Dr. Vequist's research interests include training technologies, management of technology, business strategy, project management, competency modeling, data warehousing, knowledge management, organization behavior and effectiveness, and quality improvement.
Texas Health and Science University is a comprehensive, for-profit educational institution. The University was formerly the Texas College of Traditional Chinese Medicine, the first school of Acupuncture in the State of Texas, established in 1990.  The school offers Bachelor's, Master's and Doctoral degrees in Traditional Chinese Medicine and Master of Business Administration and MBA in Healthcare Management degrees.  The University also offers a 70-Hour Acudetox Training Program for licensed health care professionals approved by the Texas Medical Board and English as a Second Language certificate programs.  The University has been accredited by the Accreditation Commission for Acupuncture and Oriental Medicine (ACAOM) since 1996.  It is also the first institution in the nation to be awarded accreditation for the Master's degree in Acupuncture and Oriental Medicine by the 100-year-old Accrediting Council for Independent Colleges and Schools (ACICS).  Headquartered in Austin, Texas, USA with an additional classroom in San Antonio, the University offers a Dual Degree program at the master level with Zhejiang Chinese Medical University and has sister school relationships with seven institutions in Taiwan and China.

For more information, visit the College's web site at www.thsu.edu.